Worst Meal Ever
MONDAY, MAY 30, 2011
Behold my latest creation.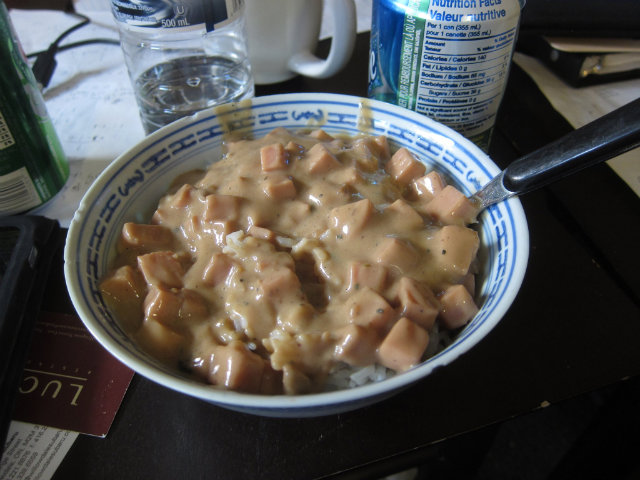 What you see above is cream of mushroom, spam, and instant pot roast powder. There was enough salt in there to last me a month. No more roommates complaining about my bland food! How does one end up with something so terrible though?
Step 1: Don't buy groceries
When it comes to food, it's all about optimization, which means reducing the number of trips to the grocery store, and trying to get as much free food as possible. Of course, the downside to this is that the meals get progressively worse. The first meal after buying groceries is awesome, there's actually a choice of what I want to eat. For this meal, my options were limited to tuna or spam, and cream of mushroom or spicy soybean paste.
Step 2: Start cooking
This part is simple enough. Cut the spam into pieces and open the can of cream of mushroom. The trick here is to get bored and notice a packet of pot roast powder that appears on your counter.
Step 3: Get a friend to agree with a bad idea
By this time, the food is almost done and is alright, but the packet of powder is bugging me. I convince my friend (let's call him... Wien) that the powder is a good idea and bam, the powder is in.
Step 4: "Enjoy" the meal
Remember not to taste it until right before serving. Once you realize it's terrible, serve it anyways because there's no other food. Ready a large glass of water, and enjoy!